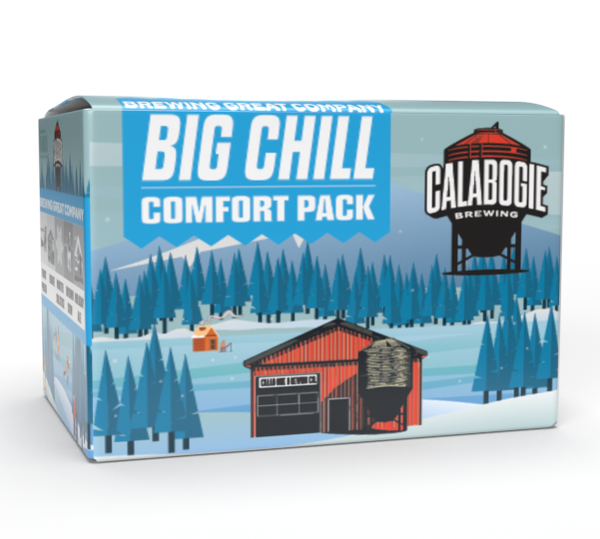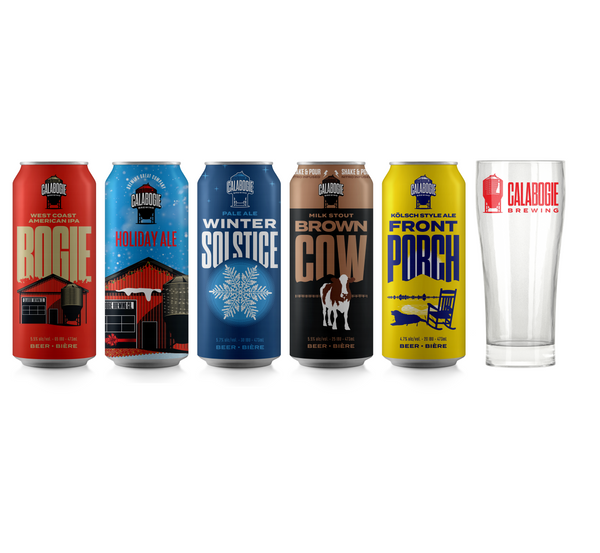 What's Included:
AVAILABLE EXCLUSIVELY IN THIS GIFT BOX:
Holiday Ale: Pale Ale
A spicy, fruitcake inspired ale which pairs perfectly with the holiday season. Exclusive to the Big Chill Comfort Pack!
6% ABV |  23 IBUs


12oz Collectable Glass
A collectable Calabogie Brewing Co. branded glass. Exclusive to the Big Chill Comfort Pack!

ALSO INCLUDED:

Winter Solstice: Pale Ale

Pours hazy with a deep yellow colour. Aromas of mango, pineapple, passion fruit, citrus, and pine. Juicy, tropical fruit flavour with notes of grapefruit, pine, and citrus.


5.7% ABV |  27 IBUs

Front Porch: Kölsch-Style Ale
Calabogie Brewing's flagship beer is Lagered Ale that is light-bodied, refreshing and well balanced. This crisp blonde beer is perfect for the outdoors.
4.7% ABV | 28 IBU

Bogie: West Cost IPA
Created by a monster hop schedule; this West Coast American Style IPA has plenty of up front hop bitterness as wave after wave of citrus and piney flavours continually wash over your pallet. A smaller grain bill and shorter boil time give this liquid gem its lower ABV and IBU; making it complex, flavourful, and sessionable.
5.5% ABV | 65 IBU

Brown Cow: Milk Stout

This Nitro Milk Stout pours a beautiful chocolate colour cascade; leaving behind a thick ice cream mocha head. The nose is brown sugar, vanilla beans, chocolate, and espresso coffee. Big bodied silky mouth feel leaves way to the rich chocolaty, and slightly roasty flavours with a fleeting sweet finish.
5.5% ABV  | 25 IBUs