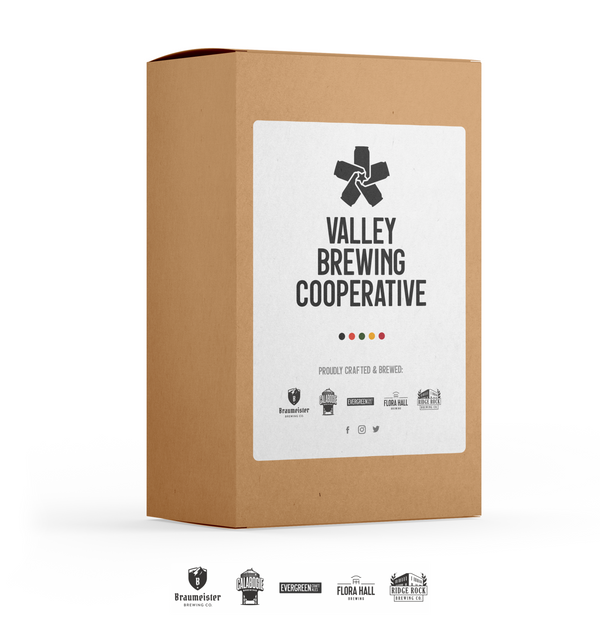 Valley Brewing Co-Op (12 Pack)
Valley Brewing Co-Op Box Set includes 10 beers from 5 Breweries in the Ottawa Region and 2 Valley Brewing Cooperative Coconut New England Black IPA.
What's Included:
AVAILABLE EXCLUSIVELY IN THIS BOX SET:
VALLEY BREWING COOPERATIVE
Coconut New England Black IPA
Brewed with oats, midnight wheat and chocolate malts, dry hopped with Rakau and Sabro then conditioned on toasted coconut. Results are aromas and flavours of tropical fruits, coconut and chocolate. Bitterness is balanced with moderate sweetness.
6.4% ABV | 40 IBU
--
Calabogie Brewing
Front Porch: Kölsch-Style Ale
Calabogie Brewing's flagship beer is Lagered Ale that is light-bodied, refreshing and well balanced. This crisp blonde beer is perfect for the outdoors.
4.7% ABV | 28 IBU
Calabogie Brewing
Bleep Bloop: North East IPA
Bleep Bloop pours a hazy, dark golden colour. Bursting with great fruit and citrus flavors supported with floral hop aromas. This super juicy IPA is the perfect balance of bitterness and tropical fruit.
6% ABV | 65 IBU
Braumeister
Avant Gardiste | French Red Ale
This beer has a deep caramel colour and a sweet malt character. The French ale yeast provides notes of stone fruit and slightly tart peach, and is balanced out by a blend of English and German hops.
5.8% ABV  | 25 IBUs
Braumeister
Fastenbier | Maibock
A strong beer, traditionally brewed to welcome the arrival of spring, this Maibock is a full-bodied, golden coloured beer with an intense malty sweetness, balanced by a generous addition of noble hops.
6.9% ABV |  28 IBUs

Flora Hall

Dry Hopped Sour
Fruity and light kettle soured blonde ale dry hopped with Cashmere and Amarillo. With passionfruit and apricot on the nose, the bright acidity intensifies citrus flavours of lime and orange.
4.8% ABV | 9 IBU

Flora Hall
Oatmeal Stout
Creamy and smooth oatmeal stout has a full body and slight sweetness balanced by a moderate bitterness. Dark malts create rich flavours of chocolate, espresso and a hint of hazelnut.
5.0% ABV | 33 IBU
Ridge Rock Brewing
APA
Our American Pale Ale spotlights two hop varieties, Simcoe and Amarillo. The grain bill is comprised of Canadian and English malts, as well as an adequate amount of oats providing a full mouthfeel without adding too much body. The hop schedule during the brew process imparts a subtle bitterness, while the massive dry hop delivers incredible notes of berry and citrus.
5.6% ABV | 32 IBU | 5 SRM 
Ridge Rock Brewing
Amber
This beer is all about the balance of caramel malt sweetness and English and American spicy, citrusy hops. Pours a perfect amber colour, with a light to medium body. Slight hints of stone fruit in the aroma perfectly balance the earthy and herbal hop characteristics. The sweeter caramel maltiness is subdued by a floral hop bitterness in the finish.
5.0% ABV | 20 IBU | 10 SRM